JammText Special Offer | Use With DEX 3 To Display Text Messages, Pictures and More On Screen
We've Tested JammText from MixCity with DEX 3 and the PCDJ Team approves – this is one awesome bit of interactive software to use while mixing videos (or audio) with DEX 3! 
Use the promo code below to start a FULL MONTH of Jammtext subscription service: Allow guests and patrons to send text messages, images and more to display on screen in real-time.
12 JammText Features Every DJ Should Know
Use JammText interactive software to liven your events
Special offer: 1 month FREE trial – no obligation!
Sign up with promo code PCDJ2016
Get JammText Today
Use Promo Code PCDJ2016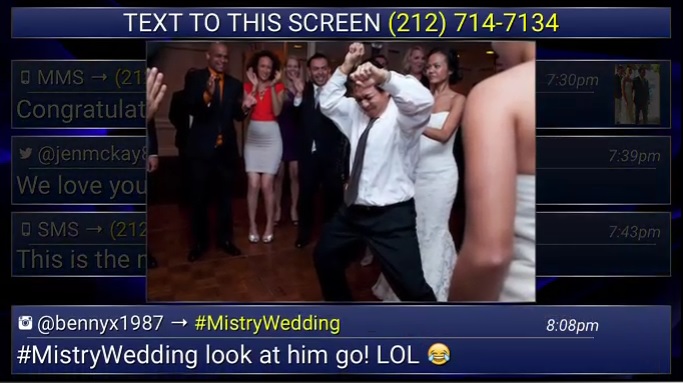 Guests share pictures and messages on screen
Use the same hashtag as the wedding (e.g. "#JackAndDiane"). As guests hashtag on social media or send by MMS, JammText will display these pictures on screen.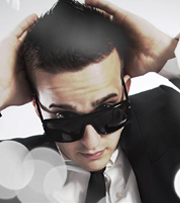 Case Study: DJ Skinny Jimmy
"I used JammText recently while DJing a wedding. The bride and groom loved it. Their friends and family sent over 70 pictures! I was able to give the couple all the pictures at the end of the wedding on a flash drive."
– Skinny Jimmy
Union, NJ
Give bride and groom instant gratification
After the reception, give the bride and groom the pictures collected. No waiting for a photographer. Offer the couple the instant gratification that they want.
Use in conjunction with photo booths
Many photobooths now share pictures on Instagram automatically. Use the same hashtag and show photobooth pictures as they are taken.
Great for concerts, sweet sixteens, bar mitzvahs, conferences, bars, nightclubs, and more!
PCDJ customers get one month FREE!
No long-term obligation. You can cancel anytime.
Sign up with promo code PCDJ2016 today
Promo code PCDJ2016 is good for one free month of either the JammText Base plan or the JammText Pro plan. Subsequent months are billed at the regular rate.
https://pcdj.com/wp-content/uploads/2016/09/jammtext-coverimage.jpg
360
706
Ryan Sherr
https://www.pcdj.com/wp-content/uploads/2021/07/pcdj-main-logo-2.png
Ryan Sherr
2016-09-12 17:31:47
2016-09-13 09:17:03
JammText Special Offer | Use With DEX 3 To Display Text Messages, Pictures and More On Screen